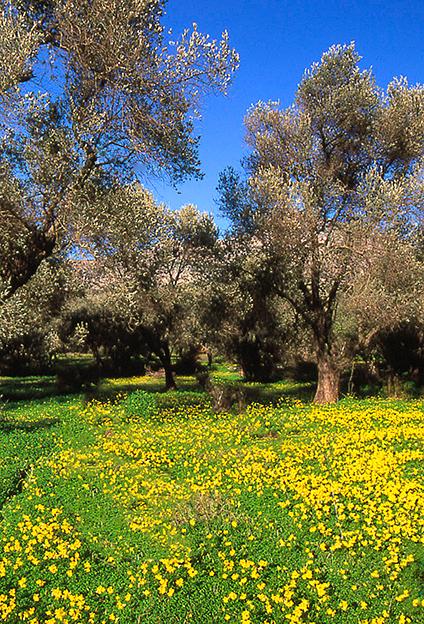 The principal source of the Olive Oil Selections extra virgin oils is a cooperative in Laconia, south of Sparta, where Ann and George are stakeholders. These groves produce Koroneki olives, a varietal known for its naturally high polyphenol levels.
The olives are handpicked and cold pressed within hours of harvesting, from late December to early March.
The early harvest oils have a big green flavor that hints of wild herbs and freshly cut grass.  These oils are pungent and fruity with a peppery finish.
The later harvest oils are smooth and both buttery and grassy at the same time, a combination rarely found in unblended oils.
In 2013, an organic oil from the area around Mt. Pelion, in central Greece was introduced . It comes from the konservoelia varietal best known as a table olive. It is a distinctively pungent, early harvest EVOO.  Upon its introduction, it won Gold awards in International Olive Oil Competitions in Tokyo and Israel, Silver awards in New York and Beijing, plus the Grand Prestige Award in Argentina.
As of February 2014 a certified organic EVOO from the Lakonia groves will be offered. It is well balanced, with subtle green apple notes and a long, slow peppery finish.
Read more...